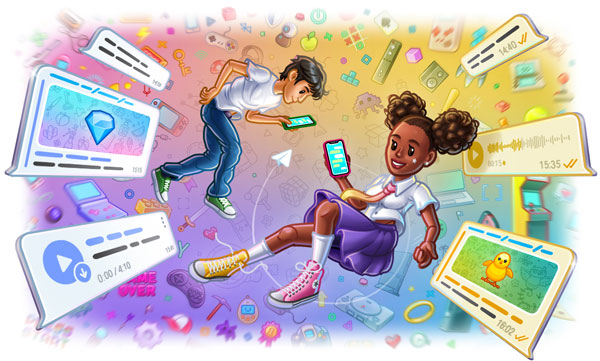 Today's update lets you set different themes for individual chats, share your feelings with loved ones using interactive emoji with fullscreen effects, see detailed read receipts in groups and record video and audio from live broadcasts.
Chat Themes
Telegram has dozens of features to organize your chats and customize their appearance, from Chat Folders to Animated Backgrounds. In this update, coordination and decoration come together with new themes for individual chats.
Our designers created 8 new themes that you can apply to specific private chats. Each of the new themes features colorful gradient message bubbles, beautifully animated backgrounds and unique background patterns.
Both you and your chat partner can choose the theme for both sides and make any conversation easy to recognize, even when you can't find your glasses. This way you can set different themes for chats with co-workers and family members, so you won't accidentally send that video to your boss again.
To set a theme for your chat on Android, tap ⋮ > Change Colors. On iOS, tap the Chat Header > ⋯ > Change Colors. Your chat partner will see the theme if they are using the latest version of Telegram.
Each theme comes with a day and night version and will follow your app's night mode settings – whether you keep it dark all day, or have your chats follow the sun.
These first 8 themes are just the beginning – our designers are already working on adding more.
Interactive Emoji
We love animating emoji, but there are times when even a big red beating heart – that makes your phone vibrate with each beat! – is simply not enough to express your feelings.
With a little code, a little drawing and a lot of dark magic, we've created a new way of sharing emotion in real time. Send a single

分享