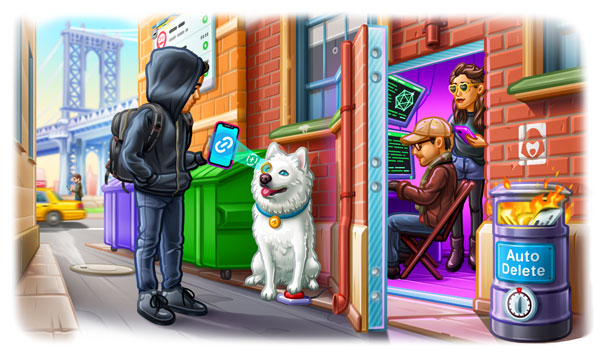 This update brings an auto-delete timer for messages in any chat, as well as new flexible invite links and faster access to your chats with home screen widgets. Also, groups can now have unlimited members.
Auto-Delete Messages
Some conversations aren't meant to last forever, which is why Telegram users can delete messages for all participants in a conversation at any time, without a trace. Since 2013, users can also set a self-destruct timer for messages in Secret Chats.
Starting today, you can enable an auto-delete timer in all Telegram chats, which will automatically erase messages for all participants either 24 hours or 7 days after sending.
Auto-delete only applies to messages sent after the timer is set, earlier messages will stay in the chat history. Unlike in Secret Chats, the countdown starts when messages are sent, not read.
To enable the timer on Android, tap ⋮ > Clear History then choose a duration.
On iOS, press and hold a message, tap Select > Clear Chat (top-left) > Enable Auto-Delete.
All messages show a countdown to their deletion time – simply tap on Android or press and hold on iOS to take a look.

分享